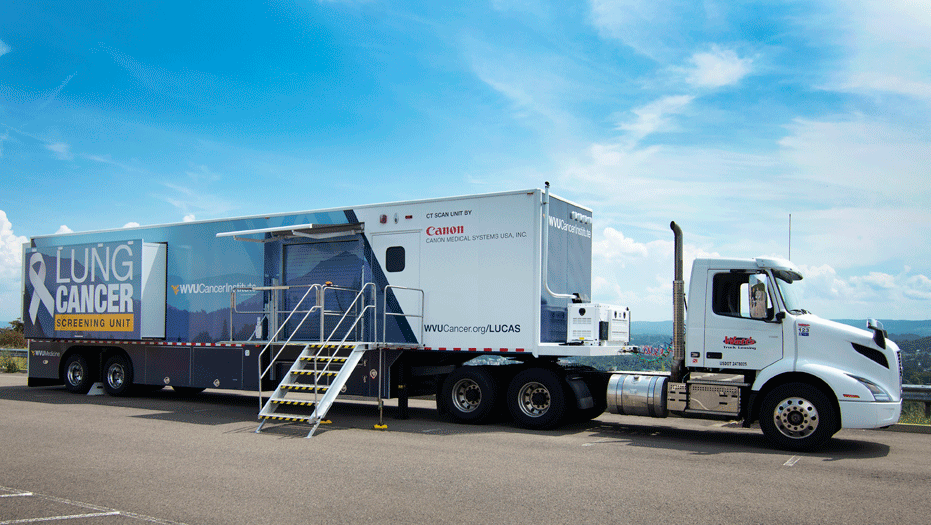 The WVU Cancer Institute's mobile lung cancer screening unit, LUCAS, travels to 42 of West Virginia's most rural counties to provide lung cancer screening.
The 48-foot unit is equipped with state-of-the-art lung cancer screening technology and provides lung cancer screening in a comfortable, convenient environment for women, men, and transgender and gender-diverse people with private insurance, Medicaid, or Medicare.
Uninsured patients living in West Virginia, who are age 50 and older and meet lung cancer screening eligibility requirements, may receive lung cancer screening on LUCAS through the generosity of grant funding and donations. With regular lung cancer screenings, cancer may be detected earlier, when it is easier to treat and cure.
More West Virginians die from lung cancer than colorectal, prostate, and breast cancer combined. Approximately 120,000 West Virginians are eligible for lung cancer screening, but only about two to four percent of those eligible for low-dose computed tomography (LDCT) are currently being screened. Most West Virginia counties do not currently have access to LDCT in their area.
LUCAS provides lung cancer screening and then refers patients in need of follow-up to facilities close to their home. Building upon the successful operations and infrastructure of our mobile mammography unit, Bonnie's Bus, LUCAS is part of the WVU Cancer Institute Mobile Cancer Screening Program, which is focused on bringing cancer prevention services to underserved communities throughout the state.
LUCAS statistics:
Can see up to 27 patients per day
Screened almost 1,900 since 2021
Completed over 575 screenings in so far in 2023
Identified at least 15 lung cancers and 3 additional cancers
The WVU Cancer Institute Mobile Cancer Screening Program is coordinated by Cancer Prevention and Control, and is a partnership between the WVU Cancer Institute and WVU Medicine-WVU Hospitals.
For more information, contact Cancer Prevention and Control at 304-293-2370 or 877-287-2272 (toll-free), or email cpc@hsc.wvu.edu.
LUCAS FAQ
How can I schedule an appointment on LUCAS?
Please check our calendar for a list of upcoming visits and contact the hosting organization directly to schedule your appointment.
Who can get a lung cancer screening on LUCAS?
The mobile unit provides screenings to individuals who fall within screening guidelines, including women, men, transgender, and gender-diverse people who:
Are age 50 to 80
Currently smoke or quit within the past 15 years
Have a >20 pack/year smoking history
Have no symptoms of lung cancer
Insurance coverage varies; check with your insurance carrier to determine coverage.
What type of payment is accepted by LUCAS?
LUCAS will bill Medicaid, Medicare, and private insurance for screening.
Medicare and Medicaid will cover the cost for those who meet the above guidelines and go to a registered facility. Private insurance covers the scan; however, guidelines vary and may require additional risk factors or differ in covered age range.
No eligible West Virginian will be turned away due to lack of insurance or inability to pay. Grant funds and donations are available to pay for lung cancer screening for those without insurance coverage.
What do I need to bring to the appointment?
Patients should bring their insurance information, driver's license or picture ID, and a healthcare provider's orders for the scan.
Please arrive 10 minutes prior to the appointment to check-in with staff and complete the appropriate paperwork. Patients should not wear any metal to their appointment.
How often should I get a scan?
An annual lung cancer screening for eligible patients is recommended by the U.S Preventive Services Task Forces.
How soon will I get my results?
Results and recommendations will be sent to each patient and their referring provider within 30 days.
If I need follow-up care, who do I contact?
Patients with findings that indicate a need for further diagnosis and treatment will be referred to their local provider and healthcare facilities for evaluation. Our LUCAS program manager is available to help find care if needed.
Does LUCAS have funding for additional tests or diagnostic services?
At this time, LUCAS is not able to pay for additional tests or diagnostic services needed as a result of the lung cancer scan.
How does LUCAS ensure patient safety during the COVID-10 pandemic?
The LUCAS team will follow the same protocols as the WVU Cancer Institute. These include the use of personal protective equipment for staff and visitors, extended appointment times to minimize the number of people on the unit at one time, social distancing, and extensive sanitization between patient visits.
How many patients can get screened in one day with LUCAS?
With COVID-19 protocols, LUCAS can see up to 20 patients in one day for lung cancer screening.
Will LUCAS and Bonnie's Bus travel to sites together?
Our Mobile Cancer Screening Program is committed to providing state-of-the-art cancer screening close to home. Both LUCAS and Bonnie's Bus will be traveling throughout the state providing screening services. If community support and space are available, both units may potentially be available for screenings at the same time. Available dates vary, and the schedules fills up quickly. View the Mobile Screening Unit calendar.
Is a smoking cessation program available through LUCAS?
LUCAS has a certified tobacco cessation specialist and can assist patients with referrals to local certified tobacco treatment specialists.